AG Duo
Self Propelled Bedding Dispenser and Cubicle Brush
The AG Duo is designed to brush old bedding and manure off the cubicle leaving the cubicles cleaned to the highest of standards and to dispense a wide variety of bedding products including sawdust, envirobed and many more at high speed.
The AG Duo uses a 36v Lithium battery to power a driven axle, to reduce operator fatigue and allow for a larger capacity bin than was previously possible on other models.  The high capacity battery allows the machine to sweep and dispense bedding on, up to 1,000 cubicles. The use of the electric motors keeps noise outputs to a minimum, which reduces any disruption to cattle. This means it is perfect to use when the cows may still be in the shed while bedding down, especially useful for the farms using robots for milking.
Conveyor and auger speeds can be adjusted to allow the Duo to be able to spread a range of bedding materials exactly where the operator requires it.
The brush utilises an adjustable floating linkage, allowing the brush to float over joins in mats without lifting them. This also gives the operator the ability to add more pressure onto the brush, useful for cleaning heavily soiled cubicles or cubicles that have not been mechanically swept before.
Features
Spreads upto 1.2m from high speed conveyor
Variable discharge rate
Suitable for all types of sawdust, plus many materials including disinfectants
LCD battery life indicator on the handle bars
The brush has an adjustable floating linkage, allowing the brush to float over joins in mats without lifting them
Benefits
Helps to reduce carbon footprint
Low running costs
Time Saving
Labour Saving
Extremely low maintenance, no engine to service.
Consistently clean cubicles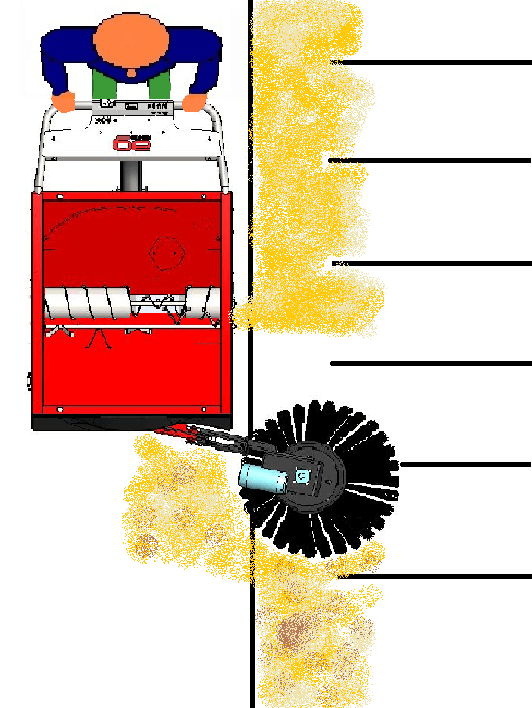 "When we moved the cows into the new dairy unit with the Delaval robots, it quickly become obviously that bedding the cubicles was a huge pinch point and taking too long to do.
We were scraping beds off and putting lime down followed by sawdust. But we were disturbing the cows too much. We had several machines on demo but as we have always used the AG Maxi dispensers we tried the AG Duo. It gave us the ability to clean and bed the cubicles in one pass and made it a one man job. It has enabled us to bed up once a day but ensure the cows have clean beds which has helped us maintain our low bactoscans and scc.
Also with the duo it's electric so it's quiet and doesn't disturb the cows and no air filters to clog or engines to go wrong. It's like it was made for us
We couldn't recommend the machine or company more highly."
Hopper Capacity: 350 ltrs
Distribution Method: Conveyor belt
Spread Distance: 0.5-1.2m
Machine Weight: 320kg
Discharge Height: 0.45m
Discharge Speed: 215ltr/min
Width: 0.9m